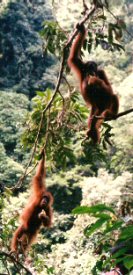 Welcome to the Locomotor Ecology and Biomechanics lab. Our research is about understanding how organisms get to be built the way they are built, and the consequences of their design for patterns of resource use, interactions with other species, and for patterns of evolution.

We use an ecomorphological approach that merges studies of functional morphology (lab based) and movement biomechanics (zoo based) that together determine the effect of morphological variation on performance, with biomechanical field-studies of animals in their natural habitat, to determine the effect of performance on actual patterns of resource use. Our overall aim is to elucidate the basic physical rules governing how biological structures operate; identifying physical constraints on what organisms can do, evaluating which structural characteristics affect performance, and analyzing the mechanisms responsible for the effects of morphological differences on performance.

One of our primary focuses is the locomotor ecology of arboreal mammals. For arboreal animals of large body mass, such as the great apes, the branches and lianas that are available for locomotion are a key resource, and the ability of animals to utilize these supports without falling or expending excessive energy underlies the success of their foraging, reproductive and predator avoidance strategies.

Further details about out lab can be found by following the links on the left hand menu

Recent News
We have just received funding from NERC for a 3-year study on

COMPLIANT INTERACTIONS AND LIMB MECHANICS DURING ARBOREAL LOCOMOTION IN TROPICAL FOREST ENVIRONMENTS.

Increasing evidence suggests that human (hominin) terrestrial bipedality originally arose from adaptations for orthograde (upright-trunk) clambering, subsuming hand-assisted bipedality, which evolved in an arboreal habitat. Further, fossil evidence for orthogrady, supported primarily on the hindlimb, dates back to some 15-20 million years ago, in the earliest crown hominoids (ancestors of living apes). As the one great ape which has remained in the fundamental great-ape niche, the peripheral canopy of rain forest, orangutans are the best living model for studying arboreal bipedality. Intriguingly, we have shown that they select bipedality to navigate thin flexible branches at the periphery of trees and when doing so, keep their legs particularly extended while they walk.

Our primary objectives in this study are to quantify the mechanical interaction between arboreal extended-leg bipedality and flexible branches in orangutans and (in experimental simulations) humans, and to establish whether this behaviour, via the trunk and limb adaptations for which it selected, could have been preadaptive for adoption of habitual terrestrial bipedality by early hominins.

This work is in collaboration with Robin Crompton (University of Liverpool) and Bill Sellars and Roland Ennos (University of Manchester).