Group members
Former group members
Dr Rebecca Edwards
Dr Andrew Jones
Dr Malgorzata Kaczorowska
Dr Nick Martin
Dr Victor Mikhailov
Dr Cleidiane Zampronio
Dr Hongyan Zhao
Dr James Hughes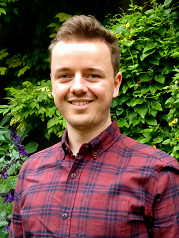 I am a post-doctoral research fellow working within the NAMS project to develop mass spectrometry as a tool for the analysis of intact protein complexes directly from biological tissue. I previously studied for my PhD under the supervision of Professor Helen Cooper where my work focussed on the development of mass spectrometry methods for the diagnosis and stratification of non-alcoholic fatty liver disease.
Publications

https://orcid.org/0000-0001-6229-7880
2022
E. Illes-Toth, O. J. Hale, J. W. Hughes, N. Strittmatter, J. Rose, B. Clayton, R. Sargeant, S. Jones, A. Dannhorn, R. J. Goodwin, H.J. Cooper. Mass Spectrometry Detection and Imaging of a Non-Covalent Protein–Drug Complex in Tissue from Orally Dosed Rats. Angew. Chem. Int. Ed. 2022.
O.J. Hale, J. W. Hughes, E.K. Sisley, H.J. Cooper. Native Ambient Mass Spectrometry Enables Analysis of Intact Endogenous Protein Assemblies up to 145 kDa Directly from Tissue. Anal. Chem. 2022, 94, 14, 5608–5614.

2021

O.J. Hale, J. W. Hughes and H.J. Cooper. Simultaneous spatial, conformational, and mass analysis of intact proteins and protein assemblies by nano-DESI travelling wave ion mobility mass spectrometry imaging, International Journal of Mass Spectrometry, 2021, 468, 116656.

2020

R.L. Griffiths, J. Hughes, S.E. Abbatiello, M.W. Belford, I.B. Styles and H.J. Cooper. Comprehensive LESA Mass Spectrometry Imaging of Intact Proteins by Integration of Cylindrical FAIMS. Analytical Chemistry, 2885-2890.

2018

D. Lighter, J. Hughes, I.B. Styles, A. Filer and H. Dehghani. Multispectral, non-contact diffuse optical tomography of healthy human finger joints. Biomedical Optics Express, 1445-1460.