Group members
Former group members
Dr Rebecca Edwards
Dr Andrew Jones
Dr Malgorzata Kaczorowska
Dr Nick Martin
Dr Victor Mikhailov
Dr Cleidiane Zampronio
Dr Hongyan Zhao
Professor Helen Cooper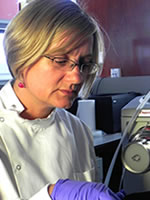 Helen J. Cooper is Professor of Mass Spectrometry in the School of Biosciences at the University of Birmingham. Her research interests focus on gas-phase ion chemistry of biomolecules and other biologically-relevant species. A particular interest is radical-driven fragmentation. More recently, her interests have focused on ambient surface mass spectrometry and ion mobility spectrometry.
Helen obtained her BSc and PhD in Chemistry from the University of Warwick. After a brief spell in industry, she returned to the University of Warwick before moving to Florida State University in 2000. She returned to the UK, taking up a post at the University of Birmingham, in 2003.
Publications
2021
O.J. Hale and H.J. Cooper. Native Mass Spectrometry Imaging of Proteins and Protein Complexes by Nano-DESI, Analytical Chemistry, 2021.
J. Havlikova, R.C. May, I.B. Styles and H.J. Cooper. Liquid Extraction Surface Analysis Mass Spectrometry of ESKAPE Pathogens. Journal of the American Society for Mass Spectrometry, 2021

2020

2019

2018

2017

2016

2015

2014

2013

2012

2011

2010

2009

2008

2007

2006

S.M.M. Sweet, A.J. Creese and H.J. Cooper. Strategy for the identification of sites of phosphorylation in proteins: neutral loss triggered electron capture dissociation. Analytical Chemistry, 7563-7569.
D. Matters, H.J. Cooper, L. McDonnell, J. Iniesta, J. Heptinstall, P. Derrick, D. Walton and I. Peterson. Mass spectrometry in demonstrating the site-specific nitration of hen egg white lysozyme by an improved electrochemical method. Analytical Biochemistry, 171-181.

2005

2004

H.J. Cooper, J.K. Heath, E. Jaffray, R.T. Hay, T.K.T. Lam and A.G. Marshall. Identification of sites of ubiquitination in proteins: a fourier transform ion cyclotron resonance mass spectrometry approach. Analytical Chemistry, 6982-6988.
H.J. Cooper, R.R. Hudgins and A.G. Marshall. Electron capture dissociation Fourier transform ion cyclotron resonance mass spectrometry of cyclodepsipeptides, branched peptides and εpeptides. International Journal of Mass Spectrometry, 23-25.

2003

2002

2001

2000

1996

H.J. Cooper and P.J. Derrick. Energy Shifts in Collisional Activation. Mass Spectrometry in the Biomolecular Sciences, 201-259.

1995

J.A. Mosely, H.J. Cooper, R.T. Gallagher and P.J. Derrick. Target capture of argon by fullerene radical cations in high-energy collisions. European Mass Spectrometry, 501-502.
H.J. Cooper, R.T. Gallagher, P.F. Greenwood, T. Vulpius and P.J. Derrick. Evidence for the formation of transient CH4C60+ following high-energy collisions between C60+· radical cations and methane. Journal of the Chemical Society, Chemical Communications, 1459-1460.

1993

H.J. Cooper, P.J. Derrick, H.D.B. Jenkins and E. Uggerud. Theory of collisional activation of macromolecules-comment. The Journal of Physical Chemistry, 5443-5444.